CACLP is excited about our two awards for CACLP members which will be awarded annually at the CACLP Annual Meeting.
Congratulations to Dr. Susan Abbey, winner of the 2022 CACLP Distinguished Contribution to Consultation-Liaison Psychiatry in Canada Award
Through this award, the CACLP recognizes the exceptional impact of Dr. Abbey's significant contribution in the form of clinical work, research, education, administration, and advocacy. Dr. Abbey's dedication has established her as an international leader in the care of individuals with co-occurring mental and physical health issues, particularly in the field of transplant, cardiology, and critical care – with a pragmatic approach which helps build connection and rapport with physical health care providers. Dr. Abbey's academic activities have led to significant advancements in mental health outcomes in transplant, cardiology, somatization, and critical illness. Through education, Dr. Abbey has impacted a generation of psychiatrists, inspiring and influencing them to engage in clinical practice, research, and education in C-L psychiatry.
Best Trainee Presentation Award – This award is presented annually to a trainee (medical student, resident or fellow) who has given the best oral or poster presentation at the Annual Meeting.
Congratulations to Dr. David Freedman, winner of the Best Trainee Presentation award at the 2022 CACLP Annual Meeting in Toronto, with CACLP President Dr. Raed Hawa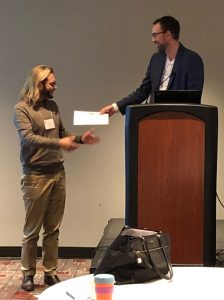 Dr. Reinhard Dolp being presented with the 2019 Best Trainee Presentation Award, by Dr. Alan Bates, CAPM committee member, at the CAPM Annual Meeting in Quebec City